Welcome to Your Marketing B-School Podcast! THE podcast dedicated to helping you learn marketing and take your business to the next level.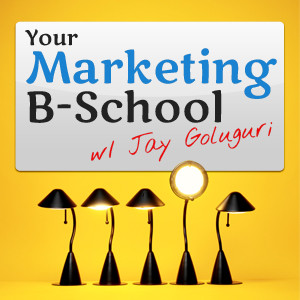 My goal with this bi-weekly podcast is to help you learn how to market your business, get it to grow and make a positive difference in this world. The podcast will primarily focus on individuals (aka solopreneurs) & small business owners.
We will talk about things beyond traditional marketing topics – including business fundamentals, personal challenges (including resistance, productivity). In summary we will help you learn the essential skills to build a business and life you will love! Is'nt school supposed to be just that?
I will post a podcast episode Thursday of every other week. If you subscribe to the podcast you will automatically get them downloaded for free.
I will typically write a few blog posts on the related topics before the podcast is out so that you can head over to my blog after listening to the podcast and dig deeper as well as join the conversation.
In addition, I will announce the topic for the 'next' episode so that you can ask me question in advance that I can try to address. Please ask you questions via podcast question page.
Podcast Episodes