Whether you are developing mobile apps for good karma or for making money we hope our apps get found and downloaded by as many people as possible. In my experience, most developers are tend to be focus on building the app, but, give little attention to marketability & marketing their app. And as a result most developers end up making little or no money. If you rely on your apps to make money for you then you must make efforts to spend time on marketing.
Here are 7 tips to get your app a boost:
1. Start with the basics
Without a awesome product you marketing will only make it fail faster. So, make a conscious effort to build a truly remarkable app.
2. Distinct & clear icon
Thats the first impression someone will get so make an effort to be clear and professional.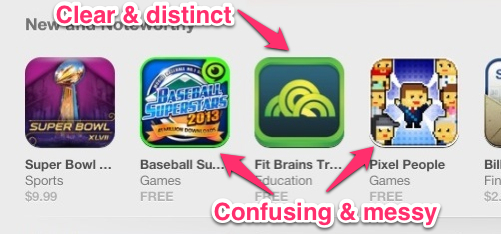 3. Keywords & Description
It seems elementary that you intuitively do this. But, I have seen majority of the apps dont even have useful description. Experiement with keywords even after the app is published. Try to post it in different category and see how it performs. The worst case if it dosent perform well you can tune it back. Pictures are worth a thousand words so let me show you some good examples of how to write descriptions and highlight why each of them is important.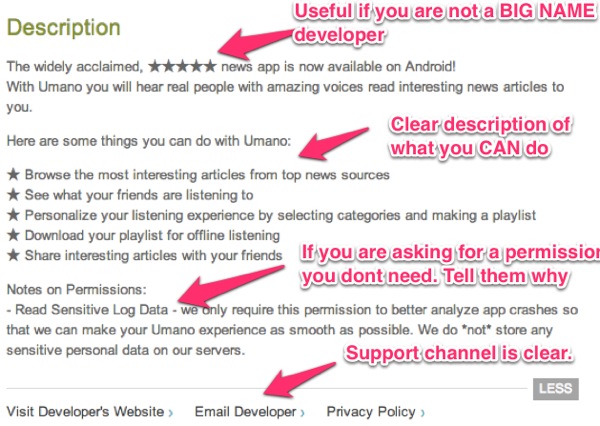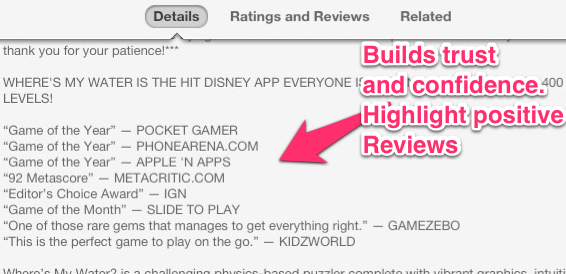 4. Useable screenshots and videos
It's quite shocking to see how many of us put screenshots without asking what each of them is trying to convey. So, make sure each screenshot is showing something and is clearly communicating it. The video (for GooglePlay store) is a excellent feature that lets you show the features of the app (keep it's length below 2 minutes).Both of the above tips ensure that users can find your app thourgh search and actually understand what it does. Giving it a better change or being tried and sold.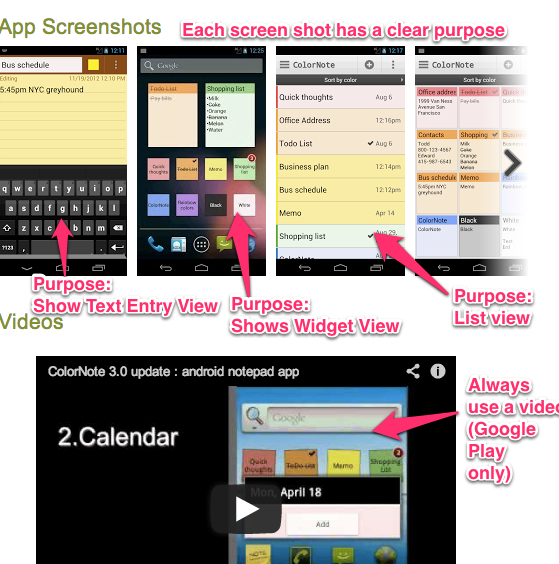 5. Offer a Free version
Always try to offer a free version or in-app purchase to remove adds or upgrade features. Inherently buyers are doubt if the product is right for them (especially if they have not made up their mind). So, lower the barriers to try you product – so, a free/lite version is always something you must make available in the store
6. Cross promote your app portfolio
if you have more than one app in the app store. You should cross promote your apps via an active promo screen. You could set it up to show-up once after each app start or after every few minutes. I especially think
Outfit7
does a great job below with their apps – check them out.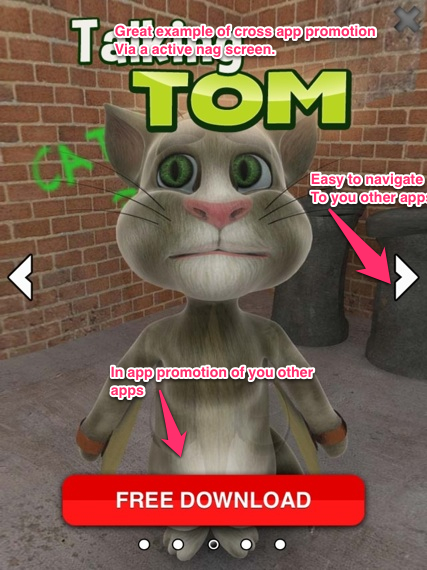 7. Always test well before you publish & Friends can help
A lot of apps receive negative reviews as they don't work as expected. App stores have made it extremely easy for us to publish out apps and update them. The side effect is that we tend to publish before we throughly test them. I encourage you to keep a list of friends who are willing and able to test you app and give you feedback. On Android side-loading and testing apps is
easy
and on iOS
Testflight
is an amazing tool. Once published in the store encourage them to download it from the store, test and leave you good feedback as well. As getting a few 5 star reviews jumpstart the sales/download funnel.
In a future post I will cover a range of strategies you can use outside the app store to market your apps – you can subscribe below to get notified when I write that post as well as other exclusive message I share here.
[nm-mc-form fid="2″]